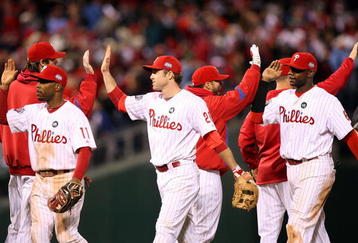 Today, the interweb is filled to bursting with musings on the bittersweet end of the Phillies' amazing 2009 playoff run.  But I just had to add my two cents.
The sentiment seems fairly universal: gratitude, with just a tinge of disappointment.  Surely, it's a shame that our boys were unable to perform the near-impossible feat of repeating as WFC.  Still, they achieved something quite amazing by even surviving until November 4.  They defied all logic by ending up in the World Series without having a closer.  They overcame seemingly endless stretches of sub-.500 ball.  They battled and scraped the whole way.  Day after grueling day.  And I love them for it.
I read in several places, and I believe it's true, that perhaps the greatest thing about the Phils over these past three seasons is the way they have captured the imagination and heart of the City of Brotherly Love.  There are few things these days that can draw people together around a common bond, and in that context, what this team has done is nothing short of amazing.
I am already counting the days until pitchers and catchers.