This phrase, from Pierre Teilhard de Chardin, via Flannery O'Connor, came into my head this afternoon as I strolled through my new neighborhood and thought, as I inevitably do, about First Descents.  The words struck me hard, with precision, though I couldn't say why.   Now, discovering the quote from which it comes, things start to make a bit more sense.
"Remain true to yourself, but move ever upward toward greater consciousness and greater love! At the summit you will find yourselves united with all those who, from every direction, have made the same ascent. For everything that rises must converge."  From THE OMEGA POINT.
I felt extremely tall walking around today, pulling my stubborn basset hound away from the apparently irresistible scents of these still relatively unfamiliar streets and sidewalks.  I also felt amused.  My mind skips back to various moments from Moab, and it actually feels like my heart is being tickled.  This was true in Jackson, and again true in Utah – there is something about the laughter we generated that is raucous, uninhibited, liberating, essential.  It comes from a place so raw and real, it feels like a tidal wave.  How many times, over those five days, did I find myself gasping for air, grabbing my stomach, folding over in hysterics?  Humor has always been a fundamental part of my life.  I am funny; I married a very funny man.  My friends crack me up.  My dad is a ham.  Laughter feeds me soul, even more so since cancer.
But the laughter we shared over those five days was something else, something about connection and recognition, about demonstrating strength and resilience in the face of a shared enemy.  Cancer may have terrorized our bodies, but our hearts and minds and the laughter at our core remains untouched.
But what of the ascent, and the convergence?  This afternoon, I laced up my sneaks for my first run in exactly three weeks.  In those short weeks, the world has been turned upside down.  Reconnecting with New Orleans, my second home, filled my soul with music, and courage.  I saw how that place of magic and mystery has struggled to remain vibrant, fought its way back to life, and saw my own fight reflected in hers.   I have landed, finally, in my new home, and begun to nest and organize, to try and stake a claim here on this new piece of ground.  And once more, for kicks, I found myself under the knife (just a teeny-weeny knife), being cut one last time in the name of cancer, signifying in some way the end of this portion of my fight.  Finally,  I had my heart jump-started once again by my ever-expanding First Descents family and saw, with renewed clarity, how much living there is yet ahead of me, how much fuller I can make my world each day, as long as I keep my heart open, and fear where it belongs – in the rearview, ever receding.
So I laced up.  The winds have been whipping today – 30 mph gusts are on tap for this evening.  But I needed to go, winds be damned.  The first few strides, I felt like an Olympian.  Ten feet tall, unstoppable.  After a few hundred yards, though, multiple sources of discomfort kicked in.  My trick left knee.  My feet, ever my enemy, feeling like they had been stuffed into running shoes that were two sizes too small.  My sports bra chafing against my stitches.  I was a weary mess.
I sized up the situation, and felt the wind trying to knock me sideways.  I let the Led Zeppelin propel me, and my mind quickly went to my fellow warriors.  The faces and smiles of the people who cheered me on in Moab when I was stuck in the devil's butt crack on that first day of climbing.  I thought about Fridge and her IT band and her long absence from running, and how she has recently thrown herself back into it with renewed purpose. I thought of Phoenix, ploughing ahead on her treadmill in New York.  I thought of Bear and his endless trail runs.  And with each stride, the pain in my feet decreased, the discomfort in my knee resolved.  Those sweet souls pushed me on, right into the wind, with dust and dirt stinging my skin and my eyes.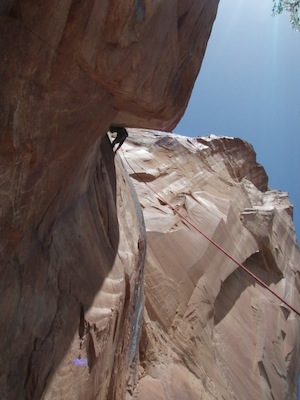 At the end of my almost four miles, it didn't matter that I had been slow, or sluggish, or in pain while I ran.  What mattered was that I had done what I set out to do, that I had not let the wind or the pain hold me back.  What mattered, in the end, was that I had made it to that one simple summit – four short miles; that I had ascended to the place where I wanted to be today, just for today.
I regret, in a way, the weeks that have gone by without running, without that discipline and routine and determination.  Running has been an essential part of my recovery, and brought me to a place, in Moab, where I was stronger and less afraid than I was in Jackson.  When my discipline fails me, I am frustrated and disappointed.  So for that reason, among others, I am eager to reclaim my routine and continue on the path I have been on for the past year.
Meanwhile, though, I realize that each small step can be an ascent in and of itself.  In Moab, I learned to "hang out" on the rock, look around me, size up my next move, and think about how I would reach the top.  Right now, after today's small accomplishment, I am cherishing the small steps along the way to the next ascent, and feeling the convergence of those who are on the journey with me.