During law school, my husband often talked about the hangover that would strike after the extreme stress and pressure of preparing for exams.  You focus, you strain, you concentrate so hard, and once the exams are over, you find yourself still buzzing from all of the exertion, with nowhere to put your energy.  Once the relief passes, something else sets in – a feeling of anti-climax, maybe even something like depression.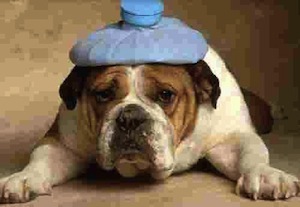 Today, the day after my much-anticipated (and dreaded) colonoscopy and upper endoscopy (and accompanying good results), I found myself similarly hungover. Yesterday, I pigged out and napped, and spent most of the evening in a daze.  Today, it was back to work, and once the relief of my clean scopes lifted, I realized I was left with a renewed anger about the fact that this cycle will never end, that I will be forever poked and prodded, screened and scanned, at regular intervals, as long as I am lucky enough to be alive.  I hate that this is what my life has become.
It occurred to me by mid-afternoon that I needed to run tonight.  By the time I got home, walked the dog and changed into my running clothes, darkness was settling in.  The days are getting shorter, and I haven't done much evening running here in the suburbs.  I used to run in the city at night all the time, bathed in street lights, dodging cars, other runners, pedestrians.  Even at night, there was always a certain brightness.
Here, in "the country," it's a different story.  The wonderful paths that circle all through the nearby parks and along the Cooper River are not, I discovered this evening, illuminated.  I set out shortly after 6:30, desperate to blow out the strong emotions roiling inside of me, not thinking about the gathering darkness.  About ten minutes into my run, I was enveloped.
I saw only two other people along the mile-plus stretch before coming to a major, well-lit intersection.  It felt a little bit dangerous, mainly because I couldn't see the ground, and the added instability of my always-testy feet, which were extra-cranky after extensive walking in a new pair of boots earlier in the day.  But I didn't care.  This run felt urgent, and the new, loud and largely unfamiliar music that I loaded onto my iPod last night crashed through my head and pushed me along.
Once I turned south and headed into Haddonfield, I realized something unsettling:  when figures appeared before me in my path, it was impossible to tell if they were receding, or coming toward me.  Eventually, the shapes would either pull off into the distance, or reach me, and pass by.  This optical illusion made me feel even unsteadier, unnerved me as I pounded through the darkness.
It occurred to me then that this sense of confusion, of disorientation, of not knowing whether something is encroaching on me, or pulling away, is an inescapable part of my life now.  It's beyond mere survivorship; it is unique, I am guessing, to those of us who know that our genes will likely at some point betray us again, and foist cancer back into the foreground.
After my scopes yesterday, and the positive report from the GI doctor, there was relief, a sense that I had won this round.  There was the small matter of my appendix appearing reversed, and the CT scan she wanted me to have to follow-up, but in the moment, in my Twilight-induced haze, it didn't concern me.  But this evening, when I came home to a voice message from a robotic voice reminding me about my radiology appointment tomorrow morning at 9:45 (Excuse me?  No one called to schedule me for a CT tomorrow…), I felt the shadowy figure – cancer – stirring and moving toward me once again.
From one moment to the next, I cannot tell if I am one step ahead of this demon, or destined for a head-on collision.