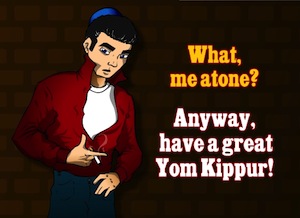 Thirteen years into my partnership/marriage with Mike, and there's still an inescapable awkwardness that creeps in each year around the High Holidays.  While I recognize the significance of this period on the calendar from a theoretical standpoint, some of its weightier, deeper meaning is, I guess, lost on me.  After my mother-in-law was Bat Mitzvah-ed last year at the age of 65, I thought that if I ever chose to embrace a religious faith, it would be Judaism.   The reality, though, is that I am a long, long way from embracing any religion and so, as every year, I am fortifying myself for this evening's Break the Fast gathering – never mind that there is no fast for me to break.
Today, my husband and many members of his extended family are reflecting on and atoning for their sins through fasting and prayer.  Me?  I ran 5.75 miles and went to the bike shop and the grocery store.  But while Mike drives out to synagogue with his mother before collecting me later on for the "fun" part of the day, I am here, with my afternoon coffee, my iTunes library cranking out a particularly mellow play-list, reflecting.  I feel like I do most of my life "out loud" since cancer; why not my atoning?
For reasons too convoluted to describe, the past two weeks have been a period of tremendous preoccupation with my own complicated familial landscape, and how it has framed my cancer experience.  There has been pain, sadness and truckloads of anger. Fortunately, with unconditional love and support from Mike, my sister, my wonderful old friend Kate, and a completely clutch performance from my therapist, I have come out on the other side of this setback feeling more convinced of my own fortitude and resilience than ever before.  In spite of everything, I have built a beautiful life and it's just going to keep getting better.
I am not doing a very good job of atoning, am I?  Let me try harder.  For while it is always easy to harp on the shortcomings of others, to place blame and psychoanalyze and pound our fists in indignation, it is so much harder to look inward and see how our own failings contribute to the messes we so often make of our lives and relationships.
But atoning for one's sins seems to be especially complicated after cancer.  Think about it: you had cancer!  You almost died!!  You endured surgery and chemo, weight loss and hair loss, nausea and fatigue.  You endured people staring at you with pity and horror every time you walked out your front door.  You had children hide their eyes and start to cry when they saw your pale, eyebrow-less face.  And on and on and on.
After that, don't you get, like, some kind of free pass?  Haven't you earned the right to speak your mind without consequence, to claim whatever it is to which you feel you are entitled?
Not quite.
It is easy enough, after cancer, to have compassion for and extended kindnesses toward your fellow survivors, those who are fighting, to feel sympathy for those who have lost loved ones to this wretched disease.  What is not so easy, it seems, is to broaden the scope of our charitable instincts to include those who haven't necessarily shared the deeper nuances and complexities of a life upended by cancer – or even to those who have, but in spite of that commonality, go on living their lives in a different emotional register.
So on this sun-drenched late summer afternoon, in anticipation of the delicious bagels and smoked fish which await me later this evening, let me say out loud:  I hope in the coming year, as my journey away from cancer and into the life that I want continues, that I can show greater patience and understanding.  I have worked hard at truth, honesty and forthrightness over the past two-plus years.  I have tried to see my way out of the darkness and into the light as bravely as possible.  Today, though, it occurs to me that in addition to the insight which I have gained from having cancer, I have perhaps also developed a greater capacity for cruelty.  This may be an outgrowth of my anger.  But while my anger is legitimate, cruelty never is.
This morning on my run, I felt truly awesome.  The cool breeze invigorated me.  I'd set a new goal for myself, and conquered it almost effortlessly;  I could probably even have surpassed it if I'd really wanted to.  I thought about the MS 150 next weekend, the Denver Marathon relay next month, and I just couldn't stop smiling.  It's been weird, since cancer, to have such a changed sense of self, of ego.  Sometimes, I just can't help telling myself that I am fucking awesome.
But that can be dangerous.  After cancer, in order to endure, there's a kind of unending "pumping up" that's both inevitable and necessary.  Without it, how could we even keep going?  As a survivor, there is so much that can trip you up, set you back.  Constant affirmation and praise, recognition of fearlessness – they seem as basic as oxygen.
I don't ever want those things to stop.  Honestly, I am afraid of what would become of me if they did.  What I don't want, though, is for my own survivor-tinged sense of self to blind me to the consequences of my actions, or to the needs of others.