Tomorrow morning, bright and early, off I go to the Perleman Center for Advanced Medicine to start my day with a pelvic exam and a CA125.  Ah, the joys of life as a stage III ovarian cancer survivor.  It's four months between check-ups now, and the truth is, an extra month feels like an eternity when you're talking about visits to your oncologist – almost long enough to forget that life, to a certain extent, is now measured in these medicalized intervals.
But the fact is, it's been another full and fabulous weekend, and despite the record-breaking heat (which hampers my running and causes some endorphin-deprivation-related grumpiness), I am feeling happy and strong and, as has been the case for many months now, very, very excited.
Cancer has connected me in a palpable way with the forward motion of life, the continuing adventure, and has instilled in me a perpetual sense of the possible.  Before cancer, one of my greatest fears was stagnation, the idea that I was in danger of becoming stuck, my life routinized in such a way that I would never be able to escape the patterns which I had created for myself.  Now, because of my head-on collision with mortality, each day I embrace the notion that the only limits are the ones of my own creation.  I no longer fear those limits; I just consider ways in which I might dismantle and overcome them.
There is the spine-tingling mystery of not knowing what lies ahead, the sense that life is an unchartered path of boundless opportunity, and then there is the comfort of the familiar, the known quantity, the constant.  Somehow, for me, the latter serves to heighten the exhilaration associated with the former.
Last night, for the umpteenth time, I found myself pressed up close to a concert stage, with my husband and my sister at my side, smiling and whooping while one of my favorite musicians, Neil Finn, tore it up with his band Crowded House.  My love of Neil and his uplifting, heartbreakingly beautiful music extends back decades, and is due in large part to my sister's influence in my early years.  (She had me singing along with Neil's first band, Split Enz – his brother's band, really – before I even hit prepubescence.)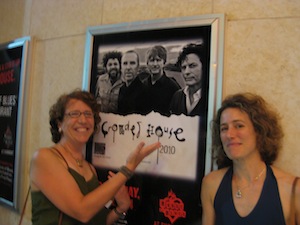 The last time Mike and I saw Crowded House was almost exactly three years ago – August, 2007 – on what I now consider the eve of my cancer diagnosis.  It's an inescapable fact that I recall the events of my life just prior to my diagnosis as unfolding in a kind of slow-motion, dreamlike haze.  The memories are particularly vivid, but obscured by the knowledge of what followed.  As we danced and sang at the House of Blues last night, I recalled the summer night three years ago at the Mann Music Center, and contemplated the way in which my life took such a violent and unexpected turn just a few months later.  The weather that day in August was peculiar – swinging from suffocating heat during the day to unsettled, wind-tossed chill air in the evening, causing fans to rush to purchase sweatshirts at the merchandise tables.  It was, looking back, some kind of metaphor for things to come.
But there I was, last night.  In spite of everything that has happened in the interim, there I was.  Exuberant, full of life, standing for hours, sweating, basking in the singular joy of live music, music that has been a constant current that has always served to both heighten the bliss, as well as provide comfort during hours of darkness.
As we drove home on the Atlantic City Expressway very early this morning, I could not escape the feeling that I have been given a second chance, a second opportunity to try and get things right.  About 20 miles from home, we passed a grizzly accident scene – unmarked emergency vehicles, six or seven police cars, an ambulance, a skeleton of a car, buried in the trees on the side of the road, draped in a white sheet.  An eerie sense of tragedy, of life's unexpected cruelty, hung in the air for a moment as we drove on.
Sometimes, we are given the opportunity, as life slows down and time stops, as words are uttered that freeze our reality, to consider what is happening, to understand our own transience.  Other times, we are obliterated in the blink of an eye.  We never see the end coming.
The luck associated with my diagnosis, treatment and current remission is something I am still struggling to accept.  Two and a half years ago, whenever someone told me how "lucky" I was – as I contemplated my childlessness, the livid incision in my abdomen, my mortality – I became enraged.  Luck was the exact opposite of what I felt.  Instead, I felt the cruel smack of misfortune.  Today, though, it is finally beginning to make sense.
But you know what it means to me, babe/In the course of a history, hey/It all makes sense to me somehow/And it's not what it used to be, no/We're suddenly free to let go/And look what's happening now

These are times that come/Only once in you're life/Or twice if you're lucky

Neil Finn