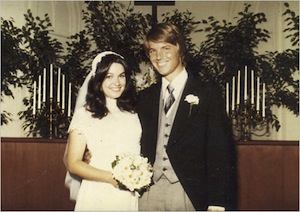 I can't stop thinking about Elizabeth Edwards.  But first, a confession.
There was a time, many moons ago, when I actually thought John Edwards might make a half-decent President.  I think I even voted for him in the '04 Democratic Primary.  Underneath one of the Obama stickers on our car, there's a John Edwards sticker.  There, I said it.  For me, Edwards' primary appeal as a candidate had to do with the fact that he was really the only person running who was willing to talk about poverty, an issue very close to my heart.
Well, fast-forward to the here and now, and it's safe to say that John Edwards is a first-class asshole.  Don't think I need to explain things any further on that score.
But I can't stop thinking about Elizabeth.
After I was diagnosed with ovarian cancer in December, 2007, I dove into Elizabeth's memoir SAVING GRACES, and found in her voice an intelligence, candor and spirit with which I genuinely connected.  She wrote about losing her son in a tragic accident, and the depression that engulfed her.  She wrote in stark, unsparing prose about her own cancer diagnosis and treatment.  To me, she seemed like a hero.
All of the drama in Elizabeth's life – her son's death, her illness, her husband's decision to run for the Senate, and ultimately for President – was, in her book, played out against the back-drop of the intense love and devotion which she and John shared.  The Edwards's marriage always struck me as a union of equals – two people whose gifts perfectly complimented one another, and whose commitment to each other was utterly steadfast.
If you do an internet search for Elizabeth Edwards at this moment, you will undoubtedly come up with dozens of stories about her recent separation from John.  You'll probably even find reviews of two new "tell-all" books which describe her in, to put it mildly, a less-than-flattering light.  Too bad about the cancer and everything, but honey, she's a real bitch.
As I write, I am trying to untangle how Elizabeth's illness factors into this tragic tale.  Aside from her presumably grim prognosis – she is, after-all, fighting metastatic stage IV breast cancer  – I am driven to wonder how her diagnosis may have contributed to the disillusion of this seemingly ideal marriage.  The specifics don't really concern me, though, because all I see is a man who betrayed his sick wife, had an affair with another woman and produced a child, all while putting on a public show of affection and devotion.
Today, I read Janet Maslin's review of Andrew Young's book about the Edwards's tragedy, and was particularly struck by this passage, describing the depth of John's pathology:
And Mr. Edwards, according to this book, freely played the cancer card. "I can't let her die knowing this," Mr. Young says Mr. Edwards said about his affair with Ms. Hunter.
I don't quite know what to make of this statement (assuming it's true), but I know that it sent a chill down my spine.
Cancer is a fucking nightmare no matter how you slice it, but I have been blessed with an extraordinary partner who has been at my side every step of the way – every terrifying, painful, confusing, disgusting step.  It's something I never take for granted.  But spend a few hours hanging around virtual cancer communities, and you will find story after story of relationships that sour after a partner is diagnosed, leaving the patient to face his or her disease without the primary emotional support he or she always thought would be there.
I know, I know – Elizabeth is rich and has access to world-class health care and she has her children and a million friends and family who are there to help her carry on.  Still, her story haunts me.  I picture her rambling around her enormous home in Raleigh, fatigued after a treatment, looking around and wondering where the man who was supposed to be at her side  – "until death do us part" – has gone.   At the end of the day, her celebrity notwithstanding, she's just another woman fighting cancer, only now, she has to do it on her own.