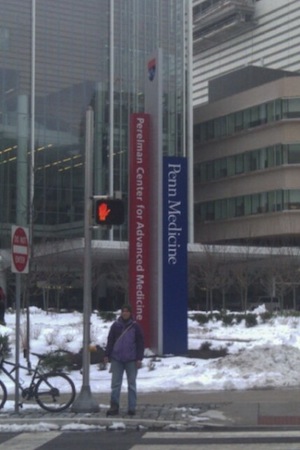 On days when I am due for a check-up with my oncologist or some other cancer-related appointment, I have been known to do things like forget to pack my yoga pants for my acupuncture appointment after work. Yesterday, after getting hastily dressed for the gym at 5:30 AM and telling myself that I would remember to grab a sports bra drying on the clothes line in the basement, I found myself starting my run on the treadmill only to realize that I had not, in fact, remember to put on a bra.  (Definitely one of the stranger runs I've ever had, but I did manage to log 4.18 miles in spite of the bouncing boobs.  At 6 AM, I have to confess I don't really give a shit if strangers at the gym are staring at my buoyant chest.)
This should not have come as such a terrible surprise, I guess, since yesterday was the day, after many long months of anticipation, that I was finally to meet with the genetics team at Penn and get tested for the HNPCC genetic mutation that both my mother and my Aunt Sally carry.  (Did I just violate HIPAA?  Sorry, guys!)  I had overcome the major hurdle of filling out all of the forms for the genetics program a few months back, and then waited and waited for a call to schedule an appointment.
So I finally did it.  Not only did I do it, but I did it on my own (despite my devoted husband's repeated protestations that he would be happy to meet me at the appointment after wrapping up a work commitment.)  And for the most part, I kept my shit together.  Go me.
The appointment itself was innocuous enough: any time I see a doctor and don't have any of my orifices probed, it's a good day.  I sat with a team of lovely young women (two genetic counselors – one of whom was an intern, and looked very much like my friend Slaps-o-lot from camp, which really helped keep me at ease, and one miscellaneous doctor, whose presence was never fully explained to me), and was walked through the a chart of my extended maternal family, showing all of the (numerous) incidents of cancers. They even took me back to 10th grade biology and showed me maps of chromosomes, and where the genetic mutation is located.  Super-cool, I guess, if you're into that.
Later, after I had my blood drawn (some for the genetic test, some for research, since, why not do what I can to help other people who have this stupid syndrome get better care in the future?), I met with the head of the GI Department, a very congenial guy who said, in essence, "You're going to test positive for the mutation, so here's what we'd like you to do in terms of surveillance.  Because in the end, it's all about preventive medicine."  PREVENTIVE MEDICINE.  I really liked the sound of that – much better, in fact, than EARLY DETECTION.  I know it all amounts to the same thing, but the thought of PREVENTING me from getting more cancer as opposed to CATCHING IT EARLIER just had a nice, smiley ring to it.  Like taking echinachea and Vitamin C.
There were really just a few "little" things that unnerved me during the visit.  First, the genetic counselor telling me that the CA125 marker that I am tested for every three months doesn't really tell us anything about whether or not there's cancer in my body (Excuse me? I think I'll let my treating oncologist make the call on that one.)  And second, when the doctor casually mentioned that, hypothetically, in the future, if benign polyps are found in my GI tract, they might recommend me for some "prophylactic surgery." Grreeeeaaaaaaat.
But the bottom line is, I did it.  Almost twenty years after the first whispers of the fact that my sister and I might be at increased risk for cancer because all of this crazy family history, I finally sat down with a geneticist and got the straight scoop.  It's time to put the surveillance program in place, starting with some butt and upper GI scopes this fall.  In truth, now that I am closing in on two years post-treatment for my ovarian cancer, I am grateful to have access to this team of folks who are working so hard to keep me in good health.
Ironically, it was my trip to the chemo suite at the Perelman Center for my regular port flush just before my genetics appointment that left me a bit rattled.  As I waited to board the bus to West Philly, I received a text message from one of my cancer peeps who just happened to be at the chemo suite for a treatment that afternoon. We'd never met in person, so I responded that I would stop by once I got there.
Normally, when I go for my port flush, I arrive just after 8 AM, when the nurses are getting set up and the first patients are just arriving.  Yesterday, though, in an effort to coordinate with my genetics appointment, I was there late in the late afternoon – when the rooms are mostly full, and folks are beginning to leave after finishing their treatments.
With skies darkening from the coming snowstorm, and thin, bald women plugged into IV's populating all of the private rooms, the chemo suite took on a very different feel than it does on an average, sunny weekday morning.  I wound my way through the corridor, trying not to peer at the patients, and headed for room 10. Suddenly, in that moment, I saw what I must have looked like two years ago – pale, wasting away, afraid.
Two doors down from the room where I waited for my flush was my fellow ovarian warrior.  I knocked gently on the door, and poked my head around.  There she was – fighting Benadryl-induced drowsiness, fiddling with her phone, with her mother-in-law at her side, dutifully knitting, keeping watch over her loved one.  We chatted briefly, I excused myself for my flush (I was delighted to see my favorite chemo nurse, Annies), and then popped back in to say goodbye.  I could see her fighting to stay alert, the effort behind the smile.  She is a warrior, and I saw myself reflected in her.  It made me angry to see her going through this fight, but also proud to feel connected to her.
Yesterday, then, I realize that I was caught up between flashing forward, and flashing back.  I saw the patient I am now becoming – scanned and scoped and probed on a regular basis, in the hopes of avoiding future advanced cancers – and the patient that I was, fighting Stage III ovarian cancer, cut-up, plugged in, pumped with poison.  Drained of spirit, fighting for my life.
But look at me now.  Keeping up my running through the long, unexpectedly snowy winter months. Stronger, more fit than ever.  Focussed, positive, powerful.  It feels like some kind of miracle.