Recently, a lovely young woman who just completed treatment for her advanced ovarian cancer told me that reading my blog was "the first time she felt hope."  She offered these words so honestly, with such straight-forwardness; I was quite taken aback.  For years, I have tried to understand why I write, have tried to justify the self-indulgence.  Finally, I heard a reason.
When we face this monster, we need each other so desperately.
It's now four years since I finished treatment for Stage III ovarian cancer.  June 11 was always a Big Day in our family – my dear husband's birthday.  In 2008, the date took on an added significance, one that I felt profoundly in the years immediately following, but which seems to be growing more muted with time.  Perhaps because now, with my son, I have something to truly allow me to focus on the future, rather than feeling constantly caught up in the past, tripping up on the memories of my cancer experience.
Even while in the midst of treatment, as I flailed about, trying to process the fact that my husband and I would never have a biological child, I told the world firmly, "we will adopt!"  I just kept saying it (people would often ask about our family plans even as I was going through chemo, perhaps not realizing what a hot-button issue it was), in the hopes that declaring our intention would somehow make it true.  I was devastated and terrified, but at the same time was determined to just keep imagining that somehow, one day, this would happen, that we would build our family, even if not in the way we had originally planned.
Between the chemo and the steroids and all the other havoc being wreaked upon my body, it was easy to live in a fantasyland, to hurl myself into an imaginary future of babies and a full head of hair.  But it was just as easy to picture the world collapsing in on itself, and see myself disappearing into nothingness.  Most of the time, it felt like I was already halfway there, being steadily erased from my own life, until one day, there would be just a faint smudge, reminding the world that I used to exist.
Recovery seemed to go on forever, in a kind of horrific slow motion.  Time stopped.  During treatment, there are at least markers and milestones to let you know you are moving toward something.  Once it ended, it often felt as if the limbo would never end.  Life in the immediate aftermath of cancer is suspended animation.
We eventually came unstuck.  I can readily trace the beginning of the rebirth to my inaugural week with First Descents in Wyoming, a year after completing treatment.   (More on this in a later post.)  Without that lift, that assurance, that embrace, my husband and I might still be spinning our wheels.  I might still be toiling in a job that left me defeated and uninspired, waiting endlessly, at age 40, for the chance to be a parent, and then waking up one day to realize that I had let cancer win after all.
It's almost three years now since Jackson – since donuts and mountaintops and dance parties – and the serenity, the stillness, the joy at my center is something that I actively take stock of and give thanks for each and every day.  The woman who scratched and clawed her way to the imaginary, illusory cancer finish line on June 11, 2008, could never have seen this moment, could honestly never have believed it would be possible to feel this strong, this grateful, and this alive.
Facing a future of unknowns is all any of us have.  Walking away from a decade of work in child welfare feels momentous, a little scary, but completely right.  I don't exactly know what it means to "follow your bliss," but I do know that becoming a mother, and feeling my heart filled to bursting with love for this little boy, has been the most powerful transformation I have ever undergone – and I've been through a few.  During the long days of my illness, everything was reduced to its barest essence, to the simple fact of trying to remain alive.  Today, what propels me forward is this overwhelming drive to give my child all of the love, energy and hope that I can muster.  I have been blessed with this improbable opportunity to be his mother, after all this pain, all this waiting, after nearly careering over the edge.  I owe it to myself and to him to do this with all of my heart.  The weight of my responsibility to him is ever-represent, and so bound up with the fact that he quite nearly never happened.
Yesterday, my aunt called.  She's a fighter like no other I have ever known.  She carries the same genetic mutation that I do, and has been through multiple cancer diagnoses and countless surgeries to correct complications from her various treatments.  She's recently come through yet another round of surgery, and as always, has battled like hell to keep up her strength and spirit.  She's doing beautifully now, and in typical fashion had just come off the tennis court.  I feel like we are members of this terrible, amazing, secret society, sharing an understanding of adversity and resilience that is otherwise almost impossible to express.
We talked at length about Earl, and at one point I said, "Not a day goes by when I take this for granted.  I am grateful every moment for the chance we have been given to be parents, to raise this beautiful boy."
It is true.  Every angry cry, every lonely moment, that led us to this place has made being here, finally, that much sweeter.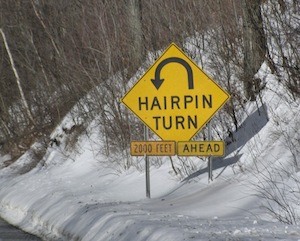 In the end, then, there is hope.  The road is long, uncertain, treacherous.  Some of us make the hairpin turns and live to tell the tale, and even one day realize our dreams.  Many of us do not.  But those who are still on this journey, who are wondering how to face the fear that hovers so close, need to hear our stories.  We may not realize it, but in telling them, we don't just remind ourselves of what we have endured, we give someone else the courage they need to believe.  Our stories are hope.  We are living proof.