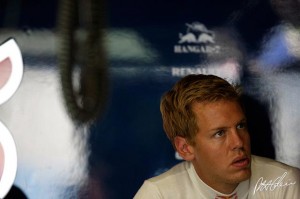 Well, we thought we'd be seeing Michael Schumacher, but with his decision not to race, the temperature has lowered considerably on this, the first race back after Summer holiday.  It'll be interesting to see who has benefitted from the long break.  McLaren showed some signs of life last month, even though the team is out of the running for this year's championship.  I'm still liking the push from Red Bull and young Sebastian Vettel (pictured above).
The future of the sport continues to be a bit of a question mark.  What will the cars look like next year?  Will there be a uniform budget cap?  Also, we're starting to wonder who will be racing where.  We known that Massa is out for this race, at least, but will he be back this season, or even next year?  BMW has left, but the Sauber team may yet be bailed out, and there's already talk of Ferrari power.  Yet, it is doubtful that a proven Kubica, a proven race winner and up-and-coming young driver, will stay with the team.  Where will he be next year?  And is Kimi bound for rally racing, leaving F1 altogether?
So, with all these murmurs and rumblings quietly roiling in the background, i think it will be nice to have an actual race to distract us form the mysteries of the future.  by this time tomorrow, we'll know who is on pole for the street course in Valencia.