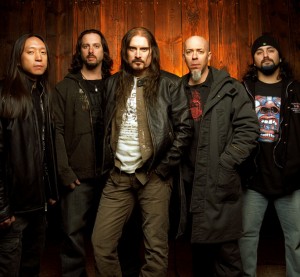 Special thanks to el Sturg and his lovely wife for hosting me in the DC metro area.  Senor Sturj and I ventured into the wilds of Columbia, MD for Progressive Nation 2009.  We got treated to Zappa Plays Zappa, Dream Theater, and even a little Queensryche.  It was a great night of music with a dear friend, but I'll need some time to digest the whole deal.  In short, the Zappa set was brilliant, satisfying and very much what I expected.  It was a treat to see such extraordinary music played so brilliantly.  Dream Theater, quite simply, was an onslaught.  Portnoy might be the best in the business behind the drums.  I've seen him before, but not with HIS band.  This show was loud, abnoxious, mighty and awesome.  Like I said, more on that later.
I also received a huge supplement to my music collection via Mr. and Mrs. Sturg.  With the former, I have an opportunity to hear every single show Mahavishnu played between 1972 and 1974.  Friday night, Saturday night, Sunday night, etc, etc.  That is a deep collection.  From the later, I got to continue my education in sounds from around the world, as the Mrs. has traveled widely, speaks fluent Spanish and supplemented her considerable music collection accordingly.  I was only able to scratch the surface while being treated to pancakes and fresh fruit this morning, but I still managed to collect many gigs.  It was a good haul; just how good, will take some time to fully realize.
Friday night (still in Philly), my friend Joe had the sense to push me to Johnny Brenda's, where I always love what I see.  In this case, it turned out top be a band I had already seen, but in a much worse venue.  I previously reflected on these events over at Fretbuzz, so there's that.
On Thursday we wrapped up a great visit with my dear sister and her hell-ish beast-like offspring amazingly sweet and hilariously funny kids.  Dorothy has some great shots posted at her .mac sight.  I've got a few things to add, although most of my stills are from the Bat Mitzvah.  This video (warning: unedited!!) gives a good feel of how things progressed:
With today's 7-3 drubbing at the hands of the Gigantos, the Phillies have now dropped a disturbing number of games on this seven-game west coast trip.  I wouldn't worry so much, seeing as their lead in the atrocious NL East is still pretty comfortable, but they will undoubtedly have to play San Francisco and/or LA when playoff time comes, provided they get there.
I guess the last thing worth mentioning is the insane joy I've been getting from following Brent Spiner (Star Trek: TNG's Data; yes, that Brent Spiner) on Twitter.  He has clearly elevated the art form.
AND, last but not least, the new Beardfish record Destined Solitaire is yet another work of genius.  Great music, lyrics, cover art, everything.  More on that later too.