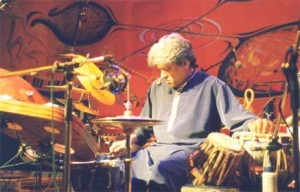 I've been listening to a lot of Zawinul lately, Weather Report, Syndicate, solo work – I've been consuming it all.  According to my last.FM stats, I've listened to Weather Report and Zawinul (songs) 59 times in the last seven days.  The next closest is a Roy Buchanan album that has fourteen songs.  So, I've been focusing.
Zawinul, like John McLaughlin, Herbie Hancock, Keith Jarrett, Wayne Shorter, Tony Williams, Chic Corea, and numerous others, worked with Miles Davis in the crucible period from 1969 to 1971.  All of these musicians either toured or recorded with Miles during that period and each went on to a very successful solo career and group work immediately after their time with Miles.
Zawinul's story is a dream come true.  He was born poor in Austria in 1932.  During the war, his neighborhood was bombed and people did not know if they would live or die from day to day.  The young Zawinul proved to be a talented keyboard player and studied American Jazz with the hope that he would one day come to the USA and play jazz with black musicians.  His dream came true and he got hooked up with Cannonball Adderley in the 60's.  The result of that musical collaboration was, among other things, a new direction in jazz as Mercy, Mercy, Mercy became a huge hit.  Zawinul was the sole composer.
After a long and productive stint with Cannonball, Zawinul played with Miles Davis on In A Silent Way and Bitches Brew.  Again, contributed musical compositions, as well as his signature keyboard chops, carving out rhythm and melody with a restrained, yet powerful hand.  Those two Miles Davis records changed everything, not just in Jazz, but in every form of popular music.  The electrified force that powered Jimi Hendrix at Woodstock and the Who at Leeds was also available to jazz musicians.  Zawinul, in his way, took this further than any Western musician.
Weather Report started out international and only got more so.  Zawinul and Shorter used touring the world as an investment in their musical futures.  At every tour stop, the exploration took place both on and off the stage.  They celebrated music by including everything and everyone.  That's the musical environment in which Joe Zawinul's voice matured to adulthood.
And where Weather Report showed some natural excess that went with it's huge success, Zawinul's work beyond that band returns the focus to mixing and matching styles to find the common music of love and love of music.  A few months before he died in 2007, Zawinul was still on tour and still tearing it up with the latest edition of his band.  This performance shows that the fire and the fury and the intergalactic boogie woogie that turned the whole world into his corner jam session.
Which brings us to Trilok.  Born into a prosperous and musical family in Bombay in 1951.  He developed skills with Indian percussion, especially the tabla, and had a keen feel for the improvisation that is part of the traditional Indian Raga.  He also loved the music emerging from the West, including Jimi Hendrix.  Over the past thirty years, he has taken the generic term world-music and turn it on its head.  This is a real case of east meets west.
Music is spirit, music is love, music is god.  It is a language shared across continents and between men and women who are standing inches apart.  An audience communes with a live performance; the band members find each other for the first time every time they take the stage.  There is no classification; there is no exclusivity; everyone is welcome – all styles, all colors, all continents, all religions, all instruments.
Zawinul, I don't think, was too worried about all this spirituality, but he lived it.  He had tremendous success with this formula.  And while it cannot be ignored that his sense of melody as poetry was absoutely sublime, it is the comingling of that dramatic sense with the openness of a world citizen, which made him iconic.  The hat, the mustache, it only worked because he gave it meaning.
Trilok may not have Jozy's uncanny ability with melody, but he happens to have otherworldy talent that even he acknowledges.  He speaks of his own ability as 'virtuoso' without it sounding excessive or self-serving.  And he's trying to hold it all back and let his supporting cast carry the tune, but invariably Gurtu's thunderous percussion comes flying in with perfect accuracy and passion.  When I hear his music, I am moved by the performer's ecstatic experience.  No one in the band, it seems is from the same country as any other member.  No one is a native English speaker, but everyone speaks English, probably better than I do.
I got to see Trilok in an 'acoustic' perofrmance of the John McLaghlin Trio back in the early 90's.  That was the breakthrough tour when he really came out to the world.  It was a huge tour, with radio and TV support in some places.  Ever since I first saw this little man running wildly between tablas, western drums (but no stool!), a pale of water and various gongs, mallets, shakers and other indescribable objects, ever since then, I have been fascinated.  I purchased a few of his early records, but at the time found them to be too fusion-y.  The percussion was intense, but the rest of it sounded a bit like smooth jazz.  Something wasn't clicking.
I remembered his work a year or two ago and heard the new project, which featured a string quartet to accompany Trilok's madness.  The album shows a beautiful sense of melody and takes advantage of the soft and sweet sound that a classical [western] configuration could do with 'world-music' and jazz.  It works extremely well.
Now, after listening to so much Zawinul and Weather Report, I'm finally listening to Trilok's more recent output – and now it all makes sense.  That sound that Zawinul created was a combination of traditional instruments playing modern sounds.  Zawinul, on the other hand, was playing ancient melodies and rhythms on the most modern keyboards and sythesizers.  He used his unique talent to put musicians into a place they didn't recognize.  The result was often something unexpected and almost always something exciting.
Zawinul is gone now, almost two years.  But I must believe that he serves a Trilok's yard-stick.  So much of what they do is the same.  They are musicians that developed a whole new approach to their instruments, that it failed to fit any category or classification.  They traveled around the world, albeit in different directions, and absorbed everything they tasted, saw and heard.  They assembled band after band after band, all different and all extraordinary.  They never compromised.
Trilok's new album 'Massical' is coming out on in the first or second week of May.