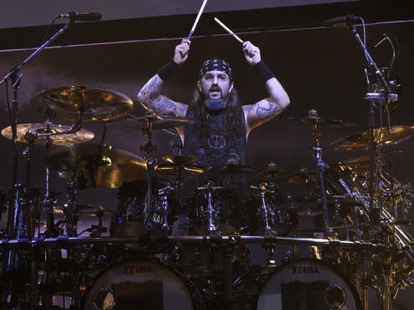 Mike Portnoy yesterday announced that he is leaving Dream Theater, the band he founded a quarter of a century ago. Dream Theater not only created a prodigious recorded legacy, but also brought Progressive Rock to a new level of respectability. Literally hundreds of bands from every corner of the globe owe their sound and their success to Dream Theater. The trail blazed by Portnoy and his exceptionally talented bandmates camouflaged the Prog by wrapping it in the attitude and aggression of Heavy Metal. With such heavy riffs and forceful vocals, the masses were perfectly willing to accept odd time signatures and extended compositions that required Roman numerals to mark the divisions.
And while each member of the band is truly a virtuoso (particularly Jordan Rudess on keys and John Petrucci on guitar), it was Portnoy's drumming that brought the band's success to another level. At the live show, audience members are treated to a drum kit the size of a school bus. But Portnoy does not stop with the standard double bass attack. He has a unique ability to bring the mathematical perfection of artists like Bill Bruford and Neil Peart to the visceral thunder of John Bonham and Keith Moon. As anyone who has seen him play can attest, the combination is nothing short of explosive.
Another of Portnoy's influences is Phil Collins. Portnoy may not pursue the latter's taste for soft rock and adult contemporary song-stylings, but in the 80's there was no harder working man in music. While fronting Genesis to the height of their popularity, Collins also stormed the top of the charts with his solo career, played on and produced countless albums, and even toured with other artists as a sideman. All at the same time.
Over the past ten years, since Dream Theater has really established its foothold as a successful and self-sustaining musical enterprise, Portnoy has matched (and perhaps surpassed) Collins' amazing run thirty years ago. Lately, this has culminated in a collaboration with Avenged Sevenfold which included recording a record and touring in support. Before that, Portnoy reunited with the pure progressive super group Transatlantic, to both record an album and do a tour. He has played on several albums by fellow Transatlantic artist Neal Morse. He has fronted instrumental projects and recorded instructional videos. He has probably recorded as much or more in his extracurricular activities as he has with Dream Theater.
Neal Morse is an extraordinarily gifted songwriter, singer and keyboard player. He founded a band with his brother called Spock's Beard, which released its first album in 1995. Spock's Beard was, and continues to be, a truly progressive Rock band. There was no mistaking this outfit with Genesis of the 70's or Marillion of the 80's. This may have been the same art form, but it had truly progressed. And one of the Beard's contributions to that ongoing progression was a more aggressive guitar sound, almost veering into the realm of metal at times. Spock's Beard worked hard, recording and touring without mercy. The result was a legion of fans and enough commercial success for the gig to be self-sustaining.
Morse is seven years older than Portnoy but the two have become great friends and natural musical collaborators. They share an ESP that elevates the music they make together. In 2002, Morse shocked the prog world by not just leaving Spock's Beard but asserting that his relationship with the Lord and Jesus Christ was the reason. While this has made many a prog fan uncomfortable, Portnoy rushed to the defense of his friend and the two created and extraordinary work of music simply called "?" in 2005. There are a slew of guests, including the venerable Steve Hackett, but at the record's heart and soul is the beautiful communication shared by these gifted artists.
And now Portnoy has left his band, on the eve of Rosh Hashana, no less. Is there a religious awakening coming down the pike for Portnoy? Will we next see him sporting payis and teffilin? I don't think so. It is more likely that this is similar to Peter Gabriel's departure from Genesis in 1975, when he stated he was searching for the unexpected. Portnoy is ready to get off the merry-go-round that Dream Theater has become. It seems a shame, because he, unlike Gabriel in Genesis, has always had so much leeway to do independent projects, but it is clear that is now not enough.
I don't like Spock's Beard as much now, even though they've done an amazing job of staying together, maximizing their output and staying relevant. I hope Dream Theater can follow suit. But just as Neal Morse's solo output since his departure represents the best music he has ever created, so I hope that, whatever comes next for Portnoy will eclipse all of his past achievements.