Let's start with the video that makes me like Tim Lincecum even more:

That gem comes courtesy the me via the good folks at Big League Stew.
Next is a beautiful Flickr gallery of the current incarnation of a Moog Taurus bass pedal.  When used correctly, this instrument can take the paint off the walls, remove fillings and rearrange internal organs: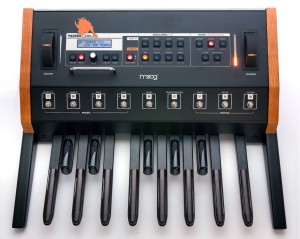 Click here for the droolworthy gallery.  Via Sythtopia.
Steve Hackett will be playing NearFest next June.  Other acts include Iona, The Enid, Three Friends (what is that, a Gentle Giant cover band), Astra and Pineapple Thief.  Since I don't know anything about the other acts, I have a lot of homework to do.  Nearfest takes place in Bethlehem, PA.  (Via Bill's Prog Blog)
Zombi is coming to Johnny Brenda's on December 19.  Should be a pretty good prog show.  So far, I like what I've heard from this Pittsburgh duo.  Tickets are ten dollars and it is the best place to see music of any type in Philadelphia.  Here's a taste of Zombi:

via the @progscape twitter feed.
And a few fiction notes:
Aliette de Boddard has some new fiction available for your reading pleasure.  'After The Fire' is another intense SF short story that you can read here or listen to as part of a podcast here.  Both are highly recommended.
There is a feisty conversation about my favorite book of the year, Jay Lake's Green over at Torque Control.  You have excerpts of some reviews, but the real drama unfolds in the comments.  My thoughts are interposed and largely ignored by the literati sharing criticism.  The link came via the author's twitter feed.
Hope everyone has had a nice weekend.  It's a beautiful Sunday here in Philadelphia, so we're off to do some outdoor chores.  Peace, live and music to you all!